Im sure how you have heard how Apple's Siri isn't completely accurate, well a smart young developer by the name of Rotastrain who is well known in the mobile scene has created his own Siri Server, which appears to be more accurate than the Apple counter part, according to tweets i have read.
Now you are probably wondering why i am writing about iPhone software on PS3HaX, well its because you PS3HaX members with iPhones can be kept up to date with all PS3HaX news through Siri, just check this image provided by PS3HaX member daveyp187(He won the E3 competition), follow him on Twitter if you want.
Take note, oldest is displayed first: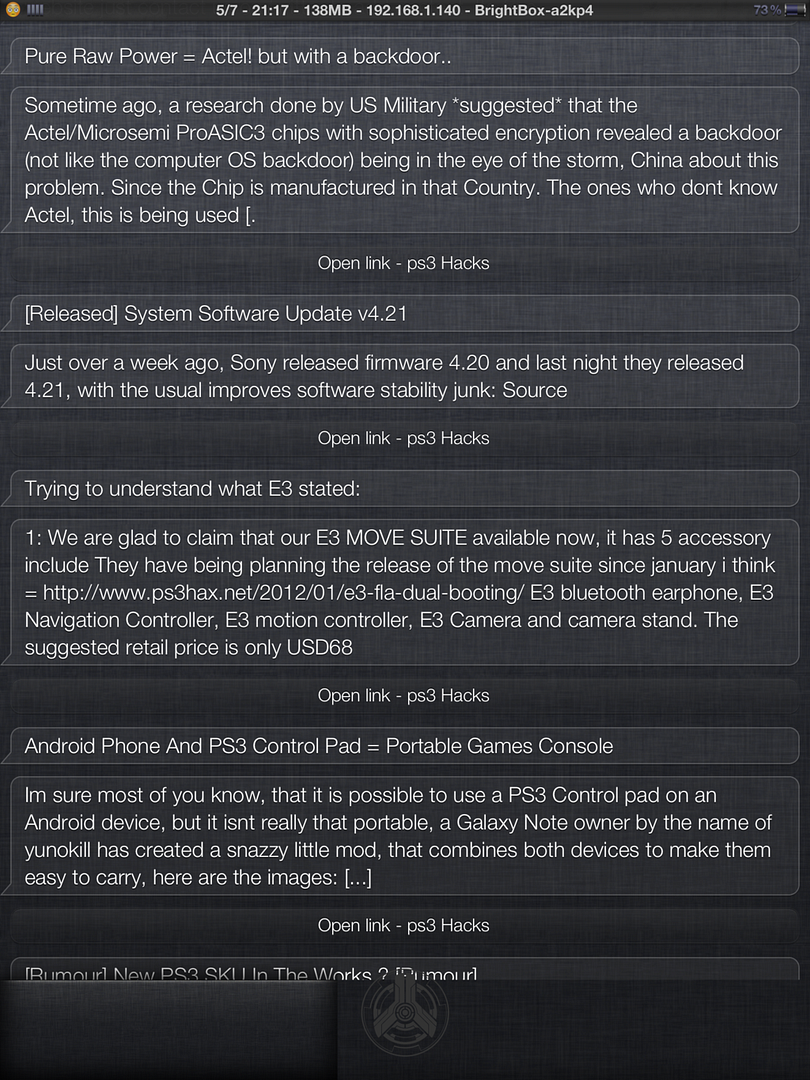 So all you iGuys that wanted an app for the forum can now enjoy WordJelly
Here is some more non PS3HaX information on it:
Features
Have your text messages read out:
Say: Read my messages, Check my messages etc
Set Relationships:
Say : Susan is my sister to set it. Say "tell my sister im coming home" to text susan. Say call my sister to call . Facetime with my sister to facetime.
Facetime:
Say facetime with to facetime
Wake me up: Say wake me up after 15 minutes, wake me up in 5 hours etc You can facebook!
Say : Facebook feed,Give me (?(any number)?) of facebook updates, Facebook Notifications, Update stuatus, My Facebook friends , Facebook Sign Out
Access twitter!
Say : Twitter feed, Give me (any number) of twitter updates, What are my twitter friends saying. line,Connections Time Line ,Twitter sign out, Twitter public feed
Set Reminders
Remind me to buy stuff.Siri will ask (when should i remind you?).Reply :After one hour, At 8 AM , At 9 PM ,DONT ever use o'clock siri won't understand.
SMS :
Send a text to Roby.Create a text to Roby.
Weather:
Whats the weather like in barcelona spain? Whats the weather like?
Music:
Play What goes around comes around.Play justin timberlake.Stop.Start.Forward.Backward.
You can get stock market quotes!
Say : My finance , Stock market Search(rate limited so go easy on it)
Send and check email!
Say : Send email to (person) about (subject) , Check my Email
Send SMS!
Say : Send message to (person)
Search Wikipedia!
Say : Wikipedia search (anything)
Set alarms
Say : Set an alarm for any a.m p.m" )
Get a picture!
Say : Display a picture of (anything)!
Find earthquakes!
Say : Find earthquake in (anywhere) or Find all earthquakes
Find your location using google maps!
Say : Where Am I?
Find things near you!
Say : Find nearest (anything) for example: find nearest gas station
Ask intellectual questions
Say : who is (anything) what is (anything)
Make notes!
Say : note I am a human being
Make phonecalls!
Say : make a phonecall to (anyone)
Get the time!
Say : Whats the time
Set a timer!
Say : Set a timer for (any amount) (minutes/hours/seconds)
Calculate:
Say: Calcualte 5 divided by 5
This server is compatible with all plugins for assistant extensions found in cydia!! Download plugins like sports scores,daily deviaitions, controling wifi bluetooth etc from there.
For more information/download and help, visit these sites:
Official WordJelly Twitter <— Follow It